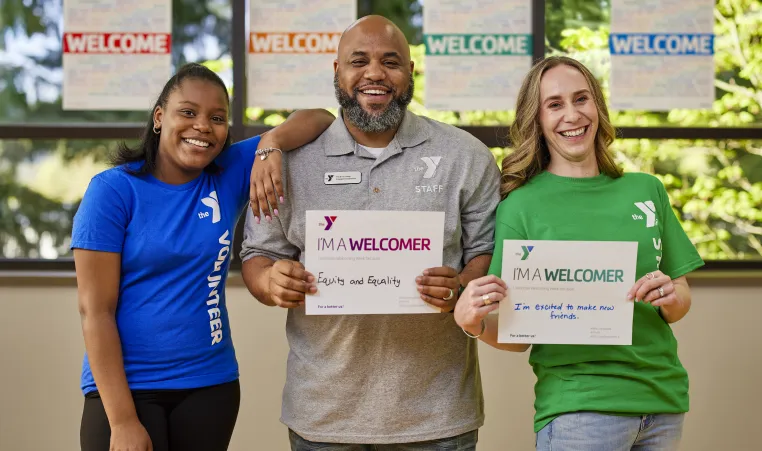 The Y is Celebrating Welcoming Week and Reminding our Community That Belonging Begins With Us
This Welcoming Week (September 8-17), YMCA of the Fox Cities will join Welcoming America, other YMCAs and organizations nationwide to celebrate immigrants' contributions to communities and bring together all residents in a spirit of unity. Each year, Welcoming Week elevates the growing movement of communities that fully embrace new Americans and their contributions to the social fabric of the country. This is an opportunity for neighbors—both immigrants and U.S.-born residents—to get to know one another and celebrate what unites people as a community.
"At the Y, we believe the Fox Cities is stronger when everyone in the community feels welcome and we can all work together for the common good," said Sue Pawlowski, Vice President of Membership, Marketing & Communications. "We are proud to be a part of Welcoming Week, which is demonstrating that in places large and small, rural and urban, people of all backgrounds are coming together to create stronger communities. It is a time to celebrate the shared values that unite us as neighbors, parents and colleagues, and to make our towns more welcoming to newcomers and to everyone who calls our community home."
About the Y 
Driven by its founding mission, the Y has served as a leading nonprofit committed to strengthening community for more than 175 years. The Y empowers everyone, no matter who they are or where they're from, by ensuring access to resources, relationships and opportunities for all to learn, grow and thrive. By bringing together people from different backgrounds, perspectives and generations, the Y's goal is to improve overall health and well-being, ignite youth empowerment and demonstrate the importance of connections in and across 10,000 communities nationwide. ymca.org
About Welcoming Week
Welcoming Week is an annual campaign and celebration to showcase the movement of communities striving to be more welcoming places for all, including immigrants. Launched in 2012 by Welcoming America and its members, Welcoming Week provides individuals and communities the opportunity to proclaim welcoming values through events and local initiatives that foster mutual understanding between immigrants and non-immigrants, as well as deeper belonging for all.
About Welcoming America
Welcoming America is a nonprofit, nonpartisan organization that leads a movement of inclusive communities becoming more prosperous by ensuring everyone belongs. Through the Welcoming Network, we work to change systems and culture by providing communities the roadmap they need to create welcoming policies and share new approaches to inclusion to create an environment where everyone can truly thrive. Learn more at welcomingamerica.org