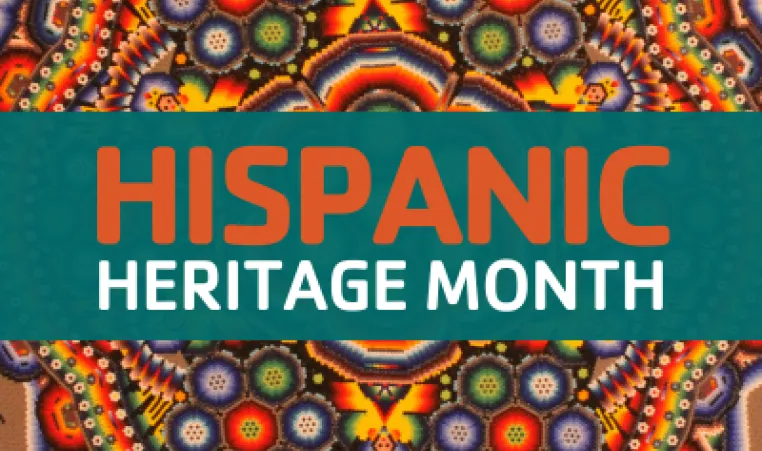 Hispanic/Latino Heritage Month is September 15 – October 15, and the YMCA of the Fox Cities is celebrating our diversity and the histories, cultures and contributions of our Hispanic and Latino community members in the Fox Cities.
History of Hispanic Heritage Month
Hispanic Heritage Month begins on September 15 and runs through October 15, giving us an opportunity to recognize and celebrate members of our communities and their ancestors who come from Mexico, parts of the Caribbean, Central and South America and Spain.
Rather than starting at the beginning of September, Hispanic Heritage Month takes place over 30 days starting on the 15th — a nod to the anniversaries of national independence for several Latin American countries including Costa Rica, El Salvador, Guatemala, Honduras and Nicaragua. Most of the Hispanic and Latino communities recognize September 15 as the date of their independence; however, Mexico's independence is observed September 16 and Chile celebrates its independence September 18.
Hispanic Heritage Month traces its history to 1968 when it was just a week-long observance. President Lyndon B. Johnson signed a bill designating the week of September 15 as "National Hispanic Heritage Week." It wasn't until nearly 20 years later that Hispanic Heritage Week was lengthened to an entire month under President Ronald Reagan's term.
Hispanic and Latino Leaders in Our Community:
The Fox Cities is home to many influential leaders in the community, some who have been named in the Wisconsin's Most Influential Latino Leaders by Madison365:
Edna Guerra: Edna and her family have been part of the Fox Valley community for 17 years. She has been a board member for the Neenah-Menasha YMCA branch the last two years. She is a strong supporter of diversity and inclusion and enjoys supporting the local Hispanic community via her involvement with Casa Hispana of the Fox Valley. Edna is currently a volunteer at Leaven, and an English tutor for the Fox Valley Literacy Program. She has also volunteered for United Way, Special Olympics and Junior Achievement in the past.
Ignacio Enriquez: Ignacio serves with the Appleton Police Department as a behavioral health officer and has been with the department for 15 years. According to Madison365, "he is a licensed clinical therapist…[and] accompanies other officers on calls involving people with mental health needs. Since he took on this role in 2015, the number of emergency detentions has fallen 41 percent" (Madison365, 2021).
Mayra Pasayes: Mayra works as the Scholars for Success Coordinator as part of the Diversity and Inclusion Services Team at the FVTC. "The Scholars for Success program focuses on the retention and persistence of at-risk, low-income, multicultural students as well as other students who are part of marginalized populations" (Madison365, 2021). In 2018, she received the college's Martin Luther King Award.
Ernesto Gonzalez Jr.: In 2006, Ernesto founded Casa Hispana in Appleton, a service agency for the Hispanic and Latino population. "Through the 1980s, he became deeply involved in the Catholic Diocese of Green Bay's ministry to Latinos, bringing students and others to Spanish-language masses. He still serves as president of the Casa Hispana board and was ordained in 2014 as a deacon of St. Therese Parish" in Appleton (Madison365, 2017).
Manny Vasquez: Manny has recently been named as an Insight Businesses' 40 under 40 honoree. He formerly worked as the Vice President of the Fox Cities Regional Partnership, which "focused on public and private partnerships to help businesses locate in the Fox Valley… [and managing] public and investor relations, [and leading] on business attraction" (Madison365, 2017). He also previously served on the board of the YMCA of the Fox Cities.
How You Can Celebrate:
The YMCA of the Fox Cities has some great ideas to help you and your family celebrate Hispanic Heritage Month!
Shop Local Hispanic/Latino-Owned Businesses: The Fox Cities community has some amazing local Hispanic and Latino-owned restaurants, You can find out more information about locating those establishments HERE.
Share Movies and Other Media: Check out some Hispanic/Latino produced or directed movies. We've put together a great list to get you started here.

A Million Miles Away: Directed by Alejandra Marquez José M Hernández was born in Mexico. While working in the fields, he co-developed the first digital mammography imaging system. He then persevered to become a crew member on Space Shuttle mission STS-128.
Miracles from Heaven: Directed by Patricia Riggen Anna Beam (Kylie Rogers) lives with a rare, incurable disorder that leaves her unable to digest food. Despite the dire diagnosis, devoted mom Christy (Jennifer Garner) relentlessly searches for a way to save her beloved daughter. Everything changes in an instant when Anna tells an amazing story of a visit to haven after surviving a headlong tumble into a tree. Her family doctors become even more baffled when the young girl begins to show signs of recovering from her fatal condition.
Pinocchio (2022): Directed by Guillermo Del Toro A father's wish magically brings a wooden boy to life in Italy, giving him a chance to care for the child. However, the two of them struggle to find a place for themselves as Italy becomes embroiled in fascism.
Selena: Directed by Gregory Nava In this biographical drama, Selena Quintanilla (Jennifer Lopez) is born into a musical Mexican-American family in Texas. Her father, Abraham (Edward James Olmos), realizes that his young daughter is talented and begins performing with her at small venues. She finds herself successful and falls for her guitarist, Chris Perez (Jon Seda), who draws the ire of her father. Seeking mainstream stardom, Selena begins recording an English-language album which, tragically, she would never complete.
Coco: Directed by Adrian Molina Despite his family's generations-old ban on music, young Miguel dreams of becoming an accomplished musician like his idol Ernesto de la Cruz. Desperate to prove his talent, Miguel finds himself in the stunning and colorful Land of the Dead. After meeting a charming trickster named Hector, the two new friends embark on an extraordinary journey to unlock the real story behind Miguels' family history.
A Little Princess: Directed by Alfonso Cuaron When young Sara (Liesel Matthews) is sent to a boarding school by her well-meaning World War I-bound father (Liam Cunningham), the imaginative girl makes the best of things by entertaining her friends with fanciful tales. After running afoul of the strict headmistress, Miss Minchin (Eleanor Bron), Sara receives some heartbreaking news, and is forced to work in servitude. As she struggles to keep her spirits up, she makes some remarkable discoveries that may change her seemingly bleak fate.
Alexander and the Terrible, Horrible, No Good, Very Bad Day: Directed by Miguel Arteta Gum stuck in his hair signals the start of a disastrous day for 11-year-old Alexander (Ed Oxenbould). One calamity follows another, but when Alexander tells his family about his misadventures, he finds little sympathy. Alexander begins to wonder if bad things only happen to him, but he soon learns that he's not alone when his mother (Jennifer Garner), father (Steve Carell), brother (Dylan Minnette) and sister (Kerris Dorsey) all find themselves living through their own calamitous days.

Read Books by Hispanic/Latino Authors: Check out some of the Hispanic authors at the Appleton Public Library. Here are some books to enjoy with your kids to get you started.

Carmela Full of Wishes: By Matt de la Peña "When Carmela wakes up on her birthday, her wish has already come true- she's already old enough to join her big brother as he runs the family errands. Together, they travel through their neighborhood, past the crowded bus stop, the fenced-up repair shop, and the panadería, until they arrive at the Laundromat, where Carmela finds a lone dandelion growing in the pavement. But before she can blow its white fluff away, her brother tells her she has to make a wish. If only she can think of just the right wish to make…"
Finding the Music: By Jennifer Torres "A young Latina girl accidentally breaks her grandfather's vihuela and searches for someone in the community to fix the instrument, which leads her to discover her grandfather's legacy as a mariachi."
The Boy Who Touched the Stars: By José Hernández "Every night when he was a boy, José would look out the window and stare at the stars. Later, when he saw a man land on the moon on TV, he knew he wanted to be an astronaut. But José struggled in school because his parents were migrant workers and the family moved constantly. Then José met a teacher who changed his life and encouraged his love of astronomy. As an adult, José accomplished many things, but he still dreamed of being an astronaut. So, he did what he had done so often in the past: he kept reaching for his dream."
Lety Out Loud: By Angela Cervantes "Lety Muñoz's first language is Spanish, and she likes to take her time putting her words together. She loves volunteering at the Furry Friends Animal Shelter because the dogs and cats there don't care if she can't always find the right word. When the shelter needs a volunteer to write animal profiles, Lety jumps at the chance. But grumpy classmate Hunter also wants to write profiles. He devises a secret competition to decide who will be the official shelter scribe/ Whoever helps get their animals adopted the fastest wins. Can Lety find her voice before it's too late?"
The Tooth Fairy Meets El Ratón Pérez: By René Colato Laínez. "When Miguels loses a tooth, two legendary characters come to claim it—one who is responsible for collecting teeth in the United States and one who has collected the teeth of the boy's parents and grandparents."