ADVANCED HEALTH COACHING
At the Y, your success is important to us, and our Advanced Health Coaching Program is a great way to get the extra support for you to succeed. Through authentic
communication, we will work together to find the missing piece that has caused you not to reach your health and wellness goals in the past.
Have you tried everything to lose weight but nothing is working?
Are you frustrated because you exercise a lot and you are still not seeing results?
Are you stuck and can't find motivation?
Do you need guidance on where to begin or what to do next?
Are you getting older and the scale continues to go up?
Do you have sleep issues, stress, auto-immune diseases, gut/digestion issues, inflammation or any other triggers that could get in the way of you losing weight?
If you answered yes to some of all of the questions above then this is the program for you! Together we will problem-solve to find why you have hit a wall or barrier to reaching your goals. And I will provide a path to fixing the barrier standing in your way.
---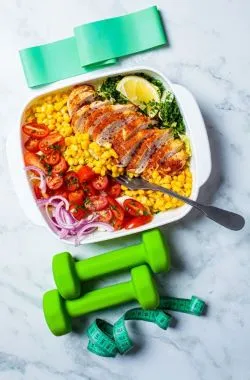 "The Health Coaching Program at the Neenah Menasha YMCA has been a tremendous benefit and support in my journey to live a healthier lifestyle and to reach an ambitious weight loss goal in a short amount of time.
Over the course of a long period of time, I developed a large hernia that needed surgery to repair the damage. In order to get the best outcomes from the surgery, the doctor said I needed to lose at least 30 pounds in a two-month time frame. It was an intimidating goal. Meeting with the health coach and working together with the doctor's recommendations, a plan was developed that incorporated many factors such as diet, exercise, sleep and stress in its design to help me reach my goals. With the YMCA health coach's advice and support, and a carefully considered exercise, diet and health plan, I was able to reach and surpass my weight loss goal. Success! I was pleasantly surprised that I accomplished the goal.
The frequent meetings to assess and support my progress, attitude and genuine positive encouragement I received for my efforts were an essential part of developing my more positive and healthy lifestyle. My journey continues with me working toward better health outcomes. With post-surgery and long-term lifestyle considerations in mind, I am looking forward to continuing with the health coach toward new goals and trying additional approaches for a healthier future. Thank ou, coach and other YMCA staff for all your support and encouragement." -Lisa
Health coaching looks at the whole person, the nutrition, the psychology, the exercise, hormones, vitamins, nutrients and so much more. You will work one on one with a health coach to find the missing pieces to what barriers are stopping you from reaching your goals.
Health Coaching is for everyone. Whether you need one-on-one coaching and motivation, you are trying to lose weight and are stuck or you need support in your journey. Through education, motivation, inspiration, accountability and a plan specifically designed for you and what you need, we will support you all along the way to reaching your goals.
HOW DO I ACHIEVE SUCCESS?
Your success lies within you. Our Health Coaches will guide you, support you, inspire you and give you a plan to follow. With healthy, measurable and reasonable goals and timelines along with a little hard work, success will come naturally.
Every person achieves success in different ways and on different timelines. Results depend on the goals, the commitment of the person, the consistency of the effort and how each individual body reacts to change. Plus, results come in many different ways from noticing small differences in the way your clothes fit, to lowering blood pressure, to seeing the scale move, to being able to eat foods without issues, etc. So results will be happening all along the way in different ways until you reach your end goal.
HOW WILL I APPLY HEALTH COACHING TO MY LIFE?
Your coach will look at the whole picture. This includes nutrition, exercise, sleep, vitamins/minerals, stress, gut health and so much more. Your coach will see the triggers and issues to work on and teach you how to apply small changes to your daily routine to work towards your goals.
WHICH FOOD AND DIETS ARE RIGHT FOR ME?
Fad diets simply do not work long-term. Our health coaches, along with our Registered Dietitians will look at what you are currently doing, how you're eating, your nutrients, vitamins/minerals and your macronutrients. Each individual person is different as to what their body needs so there is no one-size-fits-all nutrition program.
In Health Coaching we will cater to you what your body needs and teach you about the right foods to eat to help you get the results you want and to help you feel good in your body.
WHY SHOULD I BEGIN THIS JOURNEY
This is a great question. The first appointment with your health coach is a FREE consultation. During this appointment, your health coach will help you find that answer. Why do you want to start this journey? Are you ready for this journey? What is motivating you to start? Your health coach will dig deep in that first FREE consultation to find out why you should start this journey and what it could mean to you moving forward and encourage you that results are possible and within your reach, if you're ready!