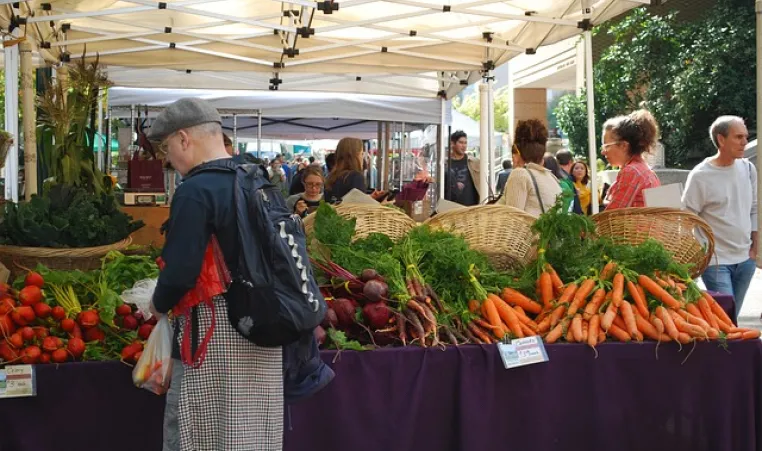 Have you been to the farmers market yet? For some, the farmers market can be an intimidating and busy place if you have never been there before, or maybe you've been meaning to stop by but just haven't found the time. Shopping at the farmer's market can save your family some money and improve the nutrition in your kitchen. Plus, it's a fun activity for the entire family!
Here are some tips for making your trip to the farmers market a positive experience:
Set a budget. According to a study by NOFA (Northeast Organic Farming Association), farmers' markets are, on average, priced the same as grocery stores; and many times, they are actually cheaper! Compare your local farmer's market prices to your usual grocery store to see where you should spend your dollar.
Get to know the farmers and ask questions. For people new to the farmers market, talking to the producers can be intimidating. Actually, farmers love to educate their customers and share their growing practices, how to cook unfamiliar food and what produce is in season
Try new things! Don't know what to do with celeriac root? Ask the farmer or look for new recipes online. You and your family can find so many new and nutritious favorites by buying what's in season for your area at the market.
Bring cash. Most farmers/producers do not have any way to accept debit or credit purchases, so cash is your best bet. This also makes it easier to stick to your budget.
Go early and stay late. As you become more familiar with the market and the produce that you like, going early can ensure that you get popular produce items that may sell out early in the day. In addition, farmers may begin to discount the produce they still have towards the end of the market, helping you get the most for your money.
Bring grocery bags and a cooler. This is the perfect time to use reusable grocery bags. As well, it's important to note that most farmers' markets are not just fruits and vegetables, but also meat, seafood, dairy and more! Bringing a cooler allows you to reap all of the benefits of the market, and keep your purchases at a safe temperature until they make it home to the fridge or freezer.
Have Fun. Don't think of a trip to the farmers market as a chore. Many farmers' markets have food vendors and children's activities to keep the entire family entertained.
Here are the Fox Valley's weekly farmers markets.
The Downtown Appleton Farm Market runs outdoors every Saturday until October from 8:00 AM - 12:30 PM. Be sure to check out all the family fun the market has to offer, with booths from local organizations like the YMCA, crafters and restaurants/food trucks!
Neenah Farmer's Market runs every Saturday from June until October from 8:00 AM-NOON offering music, yoga and other family activities throughout the morning.
Festival Foods farmers' markets are hosted in the parking lot of many Festival Foods across Wisconsin. 

Darboy - Sundays from 7:00 AM-1:00 PM
Menasha - Wednesdays from 7:00 AM-NOON

Famers Market at Greenville runs Wednesdays until October from 3:00-7:00 PM and is held at the Greenville Village Hall and offers fresh produce, restaurant and food vendors, along with arts and crafts. 
These are just a few of the local markets offered in our area. No matter where you visit, you will find that the farmers market is a great way to help you fit farm-fresh produce into any meal and any budget. You also get the added bonus of creating new traditions and having fun with the whole family.