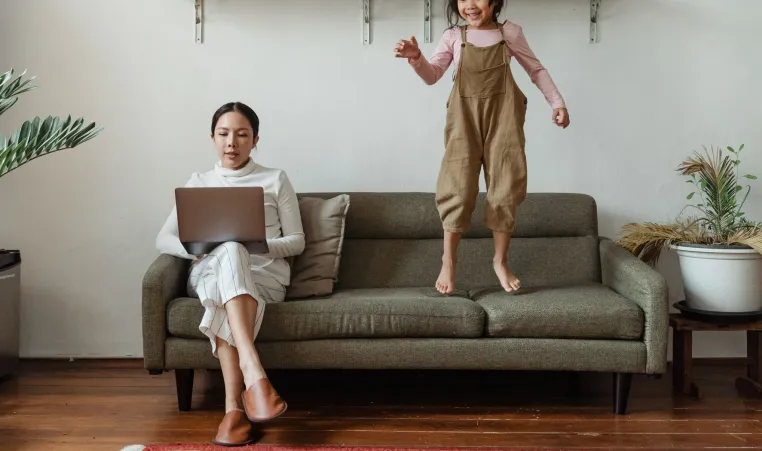 By Kristin Louis, Parenting with Kris
Around 63.1 million parents have children living at home. Overall, Statista found that about 8.3 million households have children under the age of 3, and another 9.2 million have children between the ages of 3 and 5.
While not all children require high amounts of supervision during the day, those in the toddler and preschool age range often do. For parents working from home, that can be incredibly challenging.
According to Pew Research Center, 72 percent of parents who have a job that can be done from home choose to work remotely all or most of the time. Many of them find that balancing work with family responsibilities is challenging. Thankfully, by using the right strategy like this one from YMCA of the Fox Cities, it can get easier.
Create a Schedule That Works for Everyone
If you're a working parent with young children at home, schedules are your best friend. Young children benefit from reliable structures. Plus, by establishing routines and formalizing care plans, it's easier to carve out time for all of your personal and professional responsibilities.
For two-parent households, work together to divvy up childcare responsibilities. Determine when each of you needs to focus on work and when you have more flexibility. Then, create an official schedule that aligns with those needs.
Plan Low-Supervision Activities
Low-supervision activities can keep toddlers and preschoolers busy while also allowing a parent to get some work done. Options like specialty coloring books with mess-free markers can be a great option. Large-format puzzles may also work for preschoolers.
Just make sure that your child is nearby – and potentially in a playpen – while they work on their activity. That way, you can keep an eye on them with ease.
Set Up a "Workstation" for Your Child
Consider setting up a mock workstation next to yours for children who like to be by a parent's side. You can set up a small desk and use a learning computer designed specifically for young children. That way, they can learn from the educational games while feeling like they are a part of your work experience.
Tap Your Support System
In some cases, working parents may need to tap their support system to maintain a work-life balance. Making arrangements with friends and family who can provide occasional care can give you the room to focus on critical work tasks when the need arises. Plus, you can arrange trades with other working parents, ensuring they can get some kid-free time when they need it most.
Create a Distraction-Free Work Zone
Having a distraction-free work zone can be critical when you're telecommuting with children at home. That way, when someone else is keeping an eye on your kids, you can focus with greater ease.
Ideally, you want to choose a room with a door you can close. If necessary, get a noise-canceling headset to block out distracting noise. Also, make sure that you have all of the items you require to work in that space. That way, you won't have to head to another part of the house to get what you need.
Reevaluate Your Career
Some careers are more demanding than others, requiring far more time and attention than certain alternatives. If you're working from home and find that your current job isn't conducive to being at home with toddlers and preschool-age kids, switching fields could be a smart move.
If you do want to change jobs, earning a degree online could make it easier. For example, heading back to school to get an online business degree could boost your business acumen
and provide you with key skills in areas like management, leadership, and marketing. Plus, many online programs let you go at your own pace, allowing you to balance your work responsibilities and caring for your children.
Consider these key steps and take action to make them happen. You'll find that the stress points will slowly but surely become a thing of the past!
Photo source: Pexels