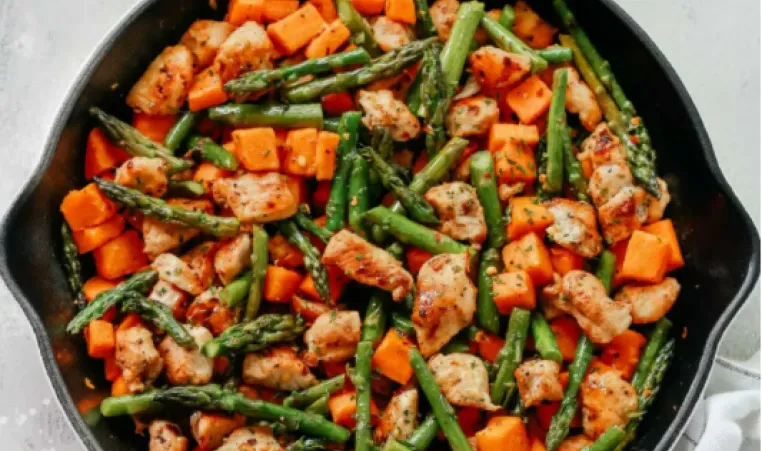 If you are like many families, you get home from work and your whole family wants dinner 2 minutes ago. One misconception about healthful eating is that it is costly. Healthy food is more nutrient-dense than some of the prepackaged food, therefore, allowing you to actually be eating less which is better for your body and your wallet. That being said, it will take a little bit of work to get started but will be well worth the effort spent upfront for the time and money that will be saved throughout the week and all the health benefits you will gain.
Meal plan, food prep and stick to it!
This is the number one way we fall off track right away. Set aside time to plan out what you are going to eat for the upcoming week. Think about breakfast, lunch, dinner and don't forget snacks. Find recipes your family will enjoy, read the recipes thoroughly to make sure you have everything you will need. What do you already have in your pantry that you can put together? What needs to get used up in the fridge? Do you have a busy night where you need dinner to be ready when you get home? Use different themes to plan out meals. Try using your leftovers to plan out the next day's lunch or dinner. Have a "try a new vegetable" day and plan the meal around that. Try to get different types of proteins, vegetables, carbohydrates and fruits and make your meal plans around that.
This tip leads right into the next; cook at home.
Once you have done your grocery shopping for the week you should be good to go. Before going to bed the night before, take a look at what's on the menu for tomorrow and prep what you can to make making dinner the next evening easier. Chop your veggies, thaw and/or pre-slice your meat even pack your lunches ahead of time. Every time you are making a meal at home you can be saving up to 60%!
Shop the sales and the seasons.
Know when certain stores have their sales on meat, seafood and proteins and stock up. Freeze larger purchased proteins in smaller packages so they are ready to go for fast thawing and use. Foods that are in season will be more affordable than those foods that are harder to get at a particular time of year. Spring fruits and vegetables coming into season now include apples, apricots, asparagus, avocado, bananas, broccoli, cabbage, carrots, celery, collard greens, garlic, greens (cooking), lettuce, mushrooms, onions, peas, pineapple, radishes, rhubarb, spinach, strawberries, Swiss chard, and turnips.
---
TRY OUT THIS RECIPE FROM primaverakitchen.com! 
Asparagus Sweet Potato Chicken Skillet
YIELD: 4 TOTAL TIME: 35 MINS PREP TIME: 15 MINS COOK TIME: 25 MINS
This Asparagus Sweet Potato Chicken Skillet recipe is a delicious, healthy, and easy-to-make meal that will be on your dinner table in less than 30 minutes. This is gluten-free, paleo, and perfect for your busy weeknight dinner.
Ingredients:
1 lb. boneless chicken breasts
1 tablespoon olive oil
Salt and ground fresh black pepper
3 garlic cloves, minced
1 medium sweet potato, peeled and diced
½ cup chicken broth or water
½ lb (225 g) fresh asparagus (the spears should be cut at a diagonal in 1 and 2 inch pieces)
½ teaspoon fine sea salt
½ teaspoon freshly ground black pepper
½ teaspoon crushed red pepper
Directions:
On a plastic board, cut the chicken into small pieces and season with salt and pepper.
In a skillet over medium heat, add olive oil, garlic, and chicken.
Sauté the chicken for about 7-10 minutes or until it is cooked through. Don't forget to stir well. Set chicken aside.
In the same skillet, add sweet potato and chicken broth.
Cook for about 7-10minutes or until the sweet potato is cooked.
Add asparagus and cook for about 4-5 minutes.
Season with salt, pepper, and crushed red pepper.
NUTRITION INFORMATION Yield: 4, Serving Size: ¼ Amount Per Serving: Calories: 233 Total Fat: 7g Cholesterol: 99.3mg Carbohydrates: 9.1g Sugar: 2.3g Protein: 32g
---
Kirsten Rice is the Health and Fitness Director for the Fox West YMCA. She has her degree from Michigan State University in Kinesiology with an emphasis in Health Promotion Specialization and has been in the field for 11 years. As a certified personal trainer and group exercise instructor, her passion is helping people find what will work for them.
Photo Credit: primaverakitchen.com